Hippies! Hippies everywhere! Oh God, save us from the hippies!
So I've already mentioned that these crazy eco-hippies from Maine were getting a lot of attention in the beer dorkosphere (despite their tiny, nano-sized operation) and was quite pleased with their Peeper Ale (a well crafted take on the typical Pale Ale style)... but the beer that really seems to be making waves is this "Happy, Hoppy Amber Ale" called Zoe: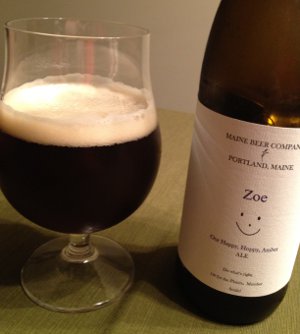 Maine Beer Co. Zoe - Pours a very deep, dark amber color, almost brown color with a finger of tan head. Smell is sugary sweet with citrus and lots of pine. Tastes very sweet, plenty of citrus and pine hops, with an interesting malt character too - maybe some biscuit malt, a small amount of dark crystal, chocolate, or even roasted/black malts. The finish has a fair amount of bitterness, but it's well matched and goes well with that dark malt character. Mouthfeel is... medium. Medium bodied, medium carbonated, medium smoothness, a medium amount of dryness in the finish. Overall, a very well crafted beer, something I'd love to try again sometime... B+
Beer Nerd Details: 7.2% ABV bottled (500 ml). Drank out of a tulip on 3/24/12. Bottle sez 020912 (presumably bottling date) and 14 (batch number?) (date is actually very hard to read)
Definitely interested in trying more of their stuff. With beers like this, I think they'll be able to grow quickly, to the point where maybe they could be described as a "micro" brewery or maybe even (someday) a regular ol' craft brewery...