Tree House is one of those little Northeast breweries with a cult-like following where dorks line up for hours on end for a chance to snag a few cans of NEIPA sludge (I kid because I love). I've had a few tastes of their stuff before, and they're uniformly excellent, so maybe queuing up for sugar water isn't quite that dumb (ugh, who am I kidding with this?)
This particular beer is an imperialized version of their Alter Ego beer, itself a variant (or Alter Ego, hur dur) of Julius that adds tons of Mosaic and a little Amarillo to the dry hop. Everyone follow that? No? Too bad, here comes the boring tasting notes: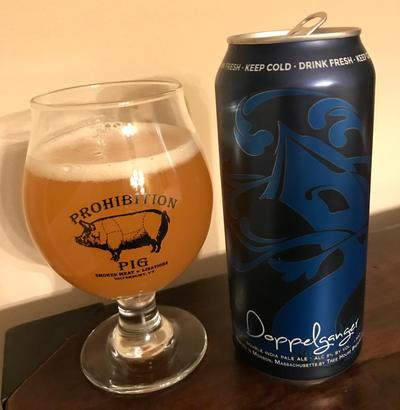 Tree House Doppelganger - Pours a cloudy golden yellow color with a finger of head that has decent retention. Smells great, like an orange juice soaked pine cone, juicy citrus, tropical fruit, pineapple, dank, resinous pine. Taste starts of sweet, that juicy citrus pitching in during the middle, followed by pine and a well balanced bitterness towards the finish. Mouthfeel is medium bodied, well carbonated, and nimble, almost quaffable. Overall, what a surprise, another dank-ass winner from Tree House. A-
Beer Nerd Details: 8% ABV canned (16 ounce pounder). Drank out of a tulip glass on 1/5/18. Canned on 12/27/17. Batch: THE MAN WHO STEPPED INTO YESTERDAY
Fabulous, as expected. Will always be on the lookout for more from them. Many thanks to fellow Beer Nerd Adam for the cans...