No filmic double feature this week, but I started off the seasonal beer tastings for the year on Friday as I watched the Flyers in a disappointing shoot-out-loss, courtesy of a total bullshit penalty call on Chris Pronger, without which we would have won in the initial overtime period (and the article was wrong, it wasn't a split-second before the goal, more like 3-5 seconds... not that I'm bitter). Anywho, the night's beer selections were more enjoyable than the game...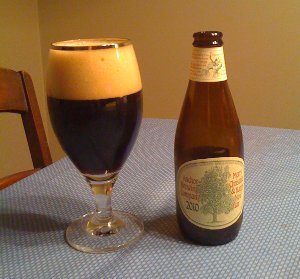 Anchor Special Christmas Ale - Anchor is one of the pioneers of independent brewing in the US, and since 1975, they've put out a special Christmas brew as the holiday approaches. The recipe is different every year, as is the tree on the label (which is quite nicely designed and very classy). It's apparently quite a popular tradition in the beer nerd community, and so I've been looking forward to this. Pours a nice dark brown color (almost black), with a big tan head that leaves lots of lacing as I drink. Smell is spicy (spruce?) with some roasted, earthy character as well. Taste features some of that spice (Spruce? Cinnamon? Nutmeg?), ample sweetness (maybe some raisins in there), and some light roastiness. Maybe a little chocolately bitterness as well, and it lingers a bit (but not in a bad way). Mouthfeel is smooth and crisp, with a medium body. It's not a particularly big beer, but it's quite delicious and I can see why everyone looks forward to this every year. A bit too rich to drink several of these in a row, but that's not a bad thing at all. I normally don't spring for a full six-pack, but in this case, I'm glad I did (not sure if I'll be able to keep one for comparison purposes next year, but maybe I'll try). B+
Beer Nerd Details: 5.5% ABV bottled (12 oz). Drank from a goblet.
Rogue Santa's Private Reserve Ale - Perhaps not as storied as the Anchor, this one seems to be a popular seasonal choice. Pours a deep brown color (lighter than the Anchor ale), with a thin head and a little lacing. Smell has some spiciness in it, maybe clove, but it's mostly a hoppy aroma. Taste has more of a nutty malt flavor, with a little spiciness and a bitter finish. It actually reminds me of Rogue's Dead Guy Ale, but a little darker with some more spiciness. A solid beer, but not as good as the Anchor and not something I see myself visiting very often. B
Beer Nerd Details: 6% ABV bottled (12 oz). Drank from a goblet.
So there we have it. Still stocking up on winter/holiday brews, so there will most definitely be more of those coming soon...