Beer club was yesterday! For the uninitiated, beer club is a monthly gathering of like-minded coworkers and acquaintances at a local BYOB for good food, optional libations, and general merriment. Since the last beer club was sparsely attended, we ended up back at Couch Tomato for some excellent pizza, strombolis (having had both, I would recommend the stromboli over the pizza), and some sort of weird greek plate. Better weather means better attendance, and we had a rather fantastic selection of beer to work our way through: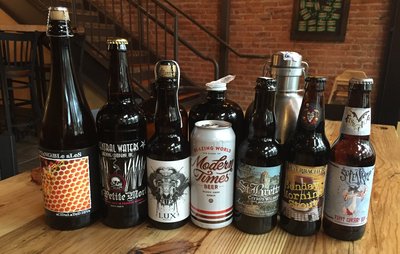 For the sake of posterity, some thoughts on each are below. As per usual, I'm going almost purely from memory, and this was from last night, so take these notes with the appropriate shakers of salt. Or call it a sacred text and analyze it like the Zapruder film. I'm not here to tell you what to do. I am here to write indefensible notes on beer, so let's get to it:
And there you have it. A fantastic selection this time around, and I am, of course, already looking forward to the next iteration...