Due to various scheduling mishaps and vacations and whatnot, the August beer club never happened, and September ended up being a little on the delayed side. But we finally made it, and a good time was had by all. For the uninitiated, beer club is a gathering of like minded coworkers who get together for food and optional libations at a local BYOB. Tonight we hit up a regular Mexican establishment and had a rather good time.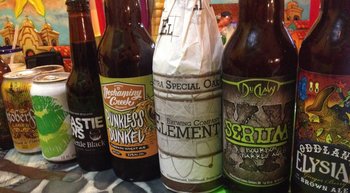 For the sake of posterity, tentative thoughts on each beer are below, though they should be taken with a grain of salt, since tastings like this are not exactly ideal conditions. So here we go, in order of drinking (not necessarily the order pictured).
Kona Castaway IPA - A surprisingly decent IPA, lots of mango in the aroma and flavor, tropical fruit hops and so on. It's not a mind-blowing beer by any stretch, but it's actually pretty damn decent. B+
Devil's Backbone Catty Wompus - A Belgian IPA that kinda come off a little light on the Belgian and even IPA character, though it did have a pretty solid amount of bitterness towards the finish. That being said, it felt like the Belgian elements were canceling out the hop character, rather than combining with each other. Certainly not a disaster, but not really my thing either. B-
Victory Prima Pils - A beer I've obviously had on numerous occasions, and it's as good as it ever was. Pilsners are not really my style, but if I was asked what I would want to drink within the style, this would be a worthy candidate. B
Victory Headwaters Pale Ale - I always forget how good this beer is, even if it's still not my favorite pale ale evar or anything that silly. Still, it's a rock solid take on a standard style. More thoughts here. B+
Sly Fox Oktoberfest - A decent take on a standard style. Nice toasty malt character, and a very drinkable beer for this time of year. B
Round Guys The Berliner - This Berliner weis is almost like a sorta crazy lemonade/beer hybrid. It's got a nice tarness to it, and the color is crazy pale, almost white. It's an interesting beer, something I'd like to try someday on its own, though it seems ideally suited for hot weather, and we're sorta heading away from that these days. B+
Yeastie Boys Pot Kettle Black - Not quite as good as I remember from last time I had this, but it's still got a nice roast and coffee base with a bit of hoppiness to follow. The first one of these I had a while back seemed a little more balance and hop focused, so who knows what's going on here. That being said, it was still quite nice to revisit this beer. B
Kaedrin Trystero Barleywine - So I gave up on hoping that my barleywine bottles would carbonate, dumped everything I had into my keg, and attempted to force carbonate the stuff. The result is decent, though I need to figure out a better way to transport the stuff (carbonation is better from the tap, but loses some of its punch in traveling in a resealable bottle). On the other hand, this turned out rather well, with a really nice bourbon and oak character to it. B+
Element Extra Special Oak (ESO) - This is quite an interesting beer, even if it's not particularly fantastic. It's a sorta amped up English ESB, with a little more alcohol and some oak aging. For something oak aged, there wasn't a whole lot to salvage, but it does have that sorta rich barrel feel that often pervades these types of beers. B
Neshaminy Creek Punkless Dunkel - Basically the same thing as last year's Punkle Dunkle (no idea why the name had to change), with a slightly different label (that, so far, is the only meaningful difference we've found yet. Big pumpkin and spice (cinnamon, clove, allspice, nutmeg, and the like) notes, fabulous carbonation and smooth, wheatey mouthfeel. Really fantastic brew, just as good as last year, and probably my favorite of the night. A-
Elysian Oddland Ginger Berry Brown Ale - Doesn't seem like much of a brown ale, it's very pale, like an IPA. But this is brewed with ginger and wheat, so it should work itself out. On the other hand, I don't care much for ginger, so I'm obviously not going to love this. Still, it was decent enough. C+
DuClaw Bourbon Barrel Aged Serum - I have to admit, I'm not a huge fan of BBA pale ales, or pale beers in general (i.e saisons, etc...). It comes off as more of a barrel aged barleywine than a DIPA... It's got the richness imparted from the oak and bourbon, but the playfulness has disappeared. Decent enough, but nothing particularly famous. B+
And that's all for now. Already looking forward to the next meetup...