Most of the time, when you're talking about beer aged in a wine barrel, you're talking about a sour beer. The wild yeast and souring bacterias seem to produce something that works harmoniously with the acid and tannin character of wine. My experience with non-sour wine barrel aging is somewhat more limited, but also quite variable. When it comes to red wine barrels, you've got something like Victory's Red Thunder, which was fine but unremarkable, and Dock Street's Barrel Aged Prince Myshkin RIS, which had a fabulous barrel character that didn't really give much red wine, but lots of oak and vanilla (unfortunately, also a distinct lack of carbonation, which really put a damper on things for me). Two very different beers (though in fairness, the Dock Street barrel was on its third use, which does make a difference).
Then there's Mikkeller's Red Wine BA Black Hole, which is probably most relevant to this post, as To Øl are basically the spawn of Mikkeller. They've got the same freewheeling gypsy brewer mentality going on, and indeed, both Mikkeller's Black Hole beers and To Øl's Liquid Confidential beers are brewed at De Proef in Belgium (given such, I have to wonder if the De Proef folks were involved in some way, perhaps contributing a house yeast or some such that lends such a familiar character). Both use a large imperial stout as a base that is then released on its own or aged in a variety of barrels. The only real difference is that the Liquid Confidential beers incorporate Chili peppers into the mix. The result? Let's find out: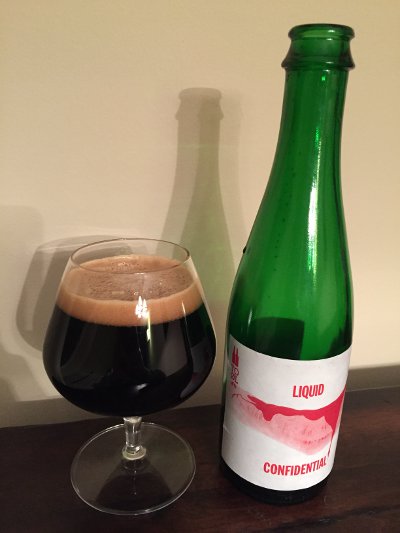 To Øl Liquid Confidential (Wine Barrel) - Pours a black color with a finger of light brown colored head that sticks around for a bit. A very nice nose, some roasted malt, adobo and chipotle chiles, and lots of vanilla. Taste has a nice roasted malt character, some sweetness, followed by some chocolate and spice in the middle, not quite as prominently as in the nose (or as identifiable), with just a hint of that wine barrel in the finish. No sourness, just a light fruity note in the aftertaste. As it warms, the barrel and wine tannins come out more, but it's not quite as harmonious a combination as, say, bourbon would be. Mouthfeel is full bodied, well carbonated, and a little sticky. As it warms, there's an astringency that emerges in the finish as well. Overall, it's a decent beer. It's definitely interesting to try a non-sour red wine aged stout, but I can't say the price tag for these is really worth it. B
Beer Nerd Details: 12.3% ABV bottled (375 ml capped). Drank out of a snifter on 12/12/14. Label has a number stamped on there: 11161310 (November 2013?)
Oddly, RateBeer and Beer Advocate don't list this variant, instead only mentioning the Cognac and Sherry barrel versions. Not sure what's up there, and it does look like the Sherry label is at least similar... Regardless, I have to admit that I'm not all that interested in exploring more of To Øl's catalog. I could see myself trying something of theirs again, but I won't be going out of my way after two decidedly mediocre experiences...