We're big fans of Truckee, CA's FiftyFifty Brewing, particularly the barrel aged variants of their Eclipse stouts. Each uses the same base stout recipe, but is then aged in a different expression of bourbon (or rye) barrel. There's a surprising difference in each variant and it's a fascinating (if wallet lightening) exercise to work through them.
Given the success they've had with Eclipse, it's only natural that they have started to expand their barrel program into other styles, like this American Barleywine called Old Conundrum. The base beer is one of their staples, and they've been releasing it aged on different whiskey expressions (Eclipse style) on tap for a while. I believe this is the first year they've bottled it, though it just says "on wood" and does not seem to indicate which barrels were used (presumably a blend). So, will this live up to the example set by Eclipse? Only one way to find out: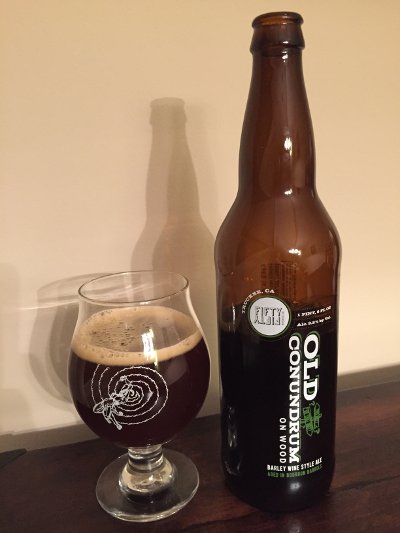 FiftyFifty Old Conundrum On Wood - Pours a murky brown color with a hint of amber (or some color more fancily named, like garnet or something) and a finger of smooth tan head. Smells great, lots of bourbon, oak, and vanilla, some dark fruit, caramel, molasses, maybe some booze. Taste starts with some dark fruit, but moves quickly into bourbon territory, hitting the caramel and molasses notes, vanilla, and a little more boozy bourbon towards the finish. Mouthfell is rich, full bodied, and chewy, tight and low but appropriate carbonation, a pleasant hint of warming booze. Overall, rock solid BA barleywine. A-
Beer Nerd Details: 9.8% ABV bottled (22 ounce bomber). Drank out of a snifter on 11/22/14. 2014 vintage.
They also make a blonde barleywine aged in bourbon barrels called Annularity, though I have not secured one of those bottles (and to be sure, I've found that lighter colored beers and bourbon barrels are not always the most enticing prospect for me... not that I'd turn it down, to be sure!) Here's to hoping I get to snag more Eclipse variants this year!