Take a Belgian Style Tripel and pop it into Chardonnay barrels for 10 months. Sounds groovy, but to be honest, if it doesn't also include Brett and/or souring bugs, this sort of thing hasn't worked out spectacularly for me in the past. This is a matter of personal taste, not quality. Often well made beer, but not something that bowls me over. For instance, I wasn't a huge fan of Victory's White Monkey, but I know lots of folks who love it. I have a feeling my reaction to 2SP's take on the style will fall into the same bucket. Well crafted and I enjoyed drinking it, but it never really wowed me or got me revved up...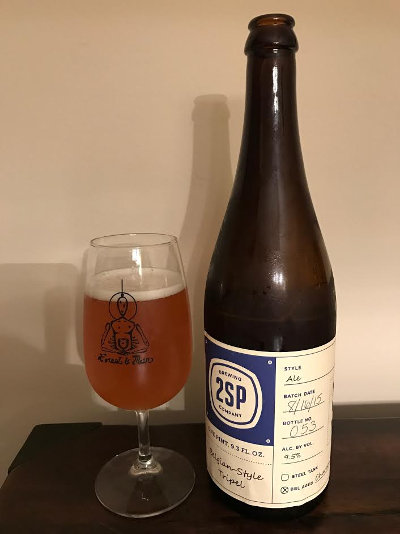 2SP Chardonnay Barrel Aged Belgian Style Tripel - Pours a warm orange gold color with afinger of slowly forming white head. Smells quite nice, lots of that white wine character, vinous fruit, expressive Belgian yeast, hints of spice. Taste starts off very sweet, we get that Chardonnay barrel character right away, fruity yeast with just a hint of spice, finishing with a little booze. Mouthfeel is medium bodied, moderately carbonated, with a bit of boozy heat. Overall, it's a decent take on a non-funky barrel-aged tripel, not my favorite style in the world to be honest, but it's getting the job done. B
Beer Nerd Details: 9.8% ABV bottled (750 ml). Drank out of a flute glass on 9/24/16. Batch Date: 8/16/15. Bottle No. 53.
I've generally enjoyed 2SP's offerings and will continue to explore them. Nothing in the immediate pipeline, but I'm looking forward to the return of The Russian, and its bourbon barrel treatment as well (perhaps the next bottle won't be overcarbed!)