Tonight was beer club! For the uninitiated, beer club is a monthly gathering of like-minded coworkers and acquaintances at a local BYOB for drinks, food, and fun. This time we went to a favorite discovery of mine, Ravanesi Pizzaria, a tiny little joint out in the burbs that scratch makes almost everything. Pizza places are a dime a dozen around here, but these guys really distinguish themselves. It's one of those places where they open at 4:30 pm and close whenever they run out of dough. Yes, it takes approximately 30 hours to make the dough, so they do run out fairly frequently. As a veteran BYOB attendee (because of beer club), most places aren't so busy on Tuesdays and thus welcome a bunch of beer nerds who take up a table and drink a lot of beer whilst occasionally munching on their food. This place was pretty much bumping from around 5 pm until we left at around 8 pm. But the pizza. The pizza is almost absurdly good. And it's not like Philly is bad at pizza (there's plenty of bad pizza, but we've got our hotspots). Check it: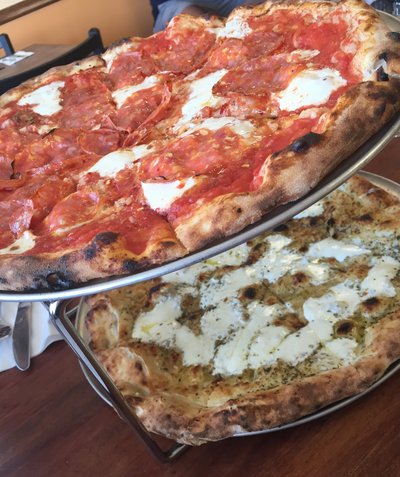 A most excellent backdrop for beer club.For the sake of posterity, some thoughts on each beer we had are below. Usual nerdy disclaimers apply, this was not ideal tasting conditions and I didn't exactly take detailed notes, so take it all with the requisite mountain of salt. In order of drinking, not necessarily how they appear in the photo: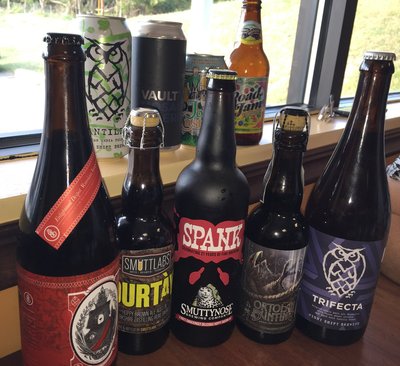 And that just about covers it. I really love this pizza and want to come here as often as possible, but it's also a little out of the way, so I'm guessing it won't be quite as regular as some other BYOB places. Still worth the trip though, so we'll see...