In typically enigmatic fashion, little is known about this beer, who Lea is, or where she is journeying to. The Fantôme never reveals its secrets. However, some sleuthing revealed that this beer was made to raise money for brewer Dany Prignon's niece (who is presumably named Lea and making some sort of journey abroad). Of course, none of that explains the deal with the beer itself (just the crytic "Globe Trotter's Beer" moniker), but that's the joy of Fantôme. There's one surefire way to find out: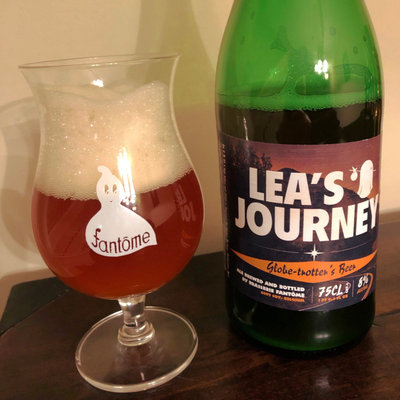 Fantôme Lea's Journey - Pours a mostly clear amber orange color with massive amounts of fluffy white head, long retention too. Smells nice, lots of Belgian yeast spicy phenols and fruity esters, some of that earthy Tome funk too. Taste follows the nose, earthy, spicy, fruity, perhaps more spice than the other elements. Mouthfeel is highly carbonated, crisp, and effervescent, medium bodied, a little spice. Overall, yes, one of the better tôme's I've had recently... B+
Beer Nerd Details: 8% ABV bottled (750 ml capped and corked). Drank out of a tulip glass on 3/3/19. Lot 4 N 17. Best Before end 2020.
Always willing to take a chance on a new ghost...