Beer club was tonight! For the uninitiated, beer club is a monthly gathering of like-minded coworkers and acquaintances at a local BYOB for drinks, food, and fun. Astute observers will notice that we skipped the month of May, which primarily came down to laziness and the fact that a couple of key attendees were embarking on Operation Cheddar/Chowder. That said, our triumphant return was quite the success, good attendance, great beer, and some rather fine sushi.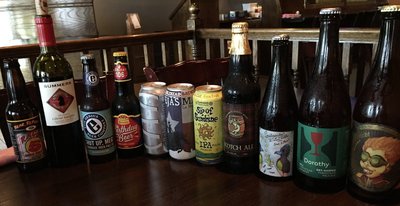 For the sake of posterity, some thoughts on each are below. As usual, these are mostly from memory because I'm not a total dick and was socializing at the time, so take these impressions with a gigantic nugget of salt or something. Here goes, in order of drinking, not necessarily how they appear in the photo:
And that just about covers it. Another successful beer club, and I'm already looking forward to next month's edition...