I admit, I've always been curious about these Green's beers. Never curious enough to pull the trigger, but one of the consequences of being a huge beer nerd is that when my birthday rolls around, people give me beer that I normally wouldn't buy (just to be clear, this is not something I'm complaining about). In this case, I got a rather awesome six-pack, picked out by my nieces and Brother (who had steered them towards the Belgian aisle, bless him). I got some Chimay and a Westmalle Tripel, and a few others, including this beer - a gluten free "Tripel Blonde Ale". Yep, no barley in this at all. In it's place, we've got Millet (whatever that is), Buckwheat (Ohhhh Tay!), Rice (I know what that is!), and Sorghum (does not sound like a foodstuff, but let's go with it). That doesn't sound too appetizing. On the other hand, it clocks in at 8.5% ABV, so maybe there's some hope? Ehh, not so much: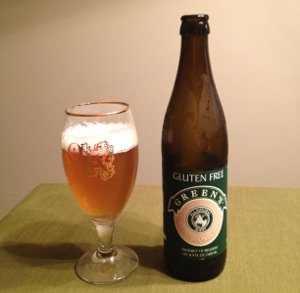 Green's Quest Tripel Blonde Ale - Pours a golden yellow color with lots of fizzy, big bubbled head. Smells of sweet green apple and not a whole lot else. The taste kinda leans towards that green apple character too, with a light tartness and big, cloying sweetness. Mouthfeel is actually kinda heavy, highly carbonated (which does help cut the sweetness), but not quite what you want out of a tripel. Overall, it's not an outright abomination, but it's not really that good either. C-
Beer Nerd Details: 8.5% ABV bottled (500 ml). Drank out of a goblet on 9/22/12. Label sez: "Best Before 05/01/17"
Yeah, so I can't say as though I'm going to run out to try more gluten-free beer. I'm just going to be thankful that I don't have a gluten problem. Let's just chalk this up as a loss in the great game of Belgian Beer Roulette. And such loses only make the wins that much sweeter.